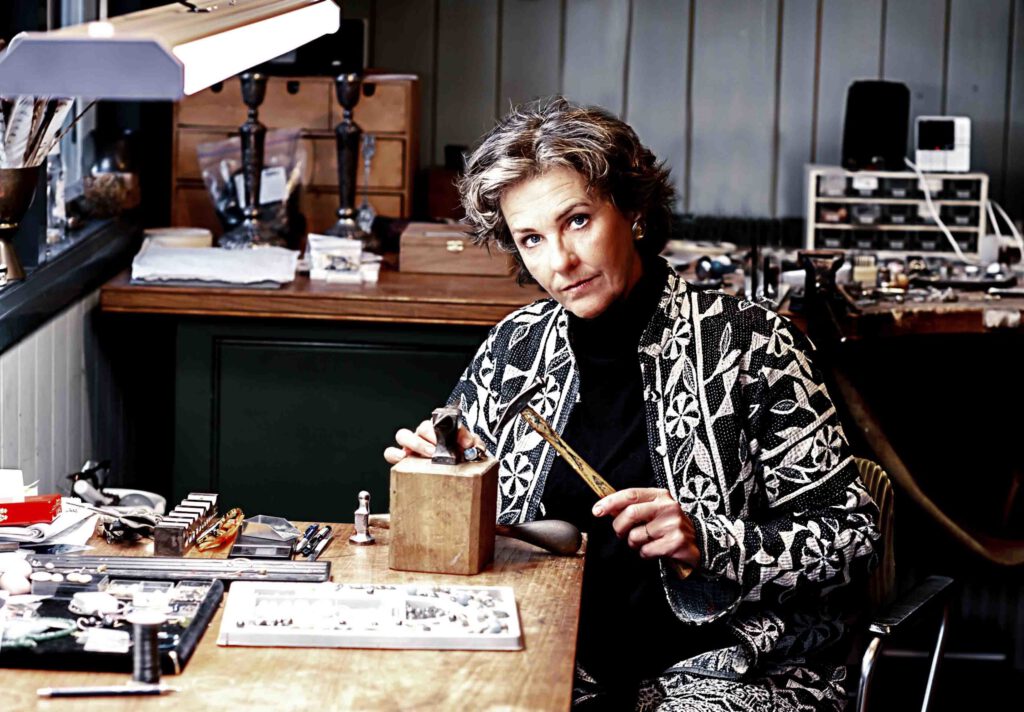 Mary van der Sluis
Goldsmith
Artist and jewellery designer Onno Boekhoudt taught Mary the first tricks of the trade when she was a mere ten years old. He started her off working with metal and horseshoe nails, followed by enamelling. She made her first piece of jewellery a year later, which she sold in shops. In her teens she delved into photography, but only briefly. In the end she wound up attending the Technical School for Gold and Silversmiths.
She took her certificate in 1983, after which she worked in Singapore for three years and in Qatar for one. During an internship year in Singapore, Mary assisted on the crown jewels of the Sultan of Johor (Malaysia). In this period she fell in love with the art of Chinese enamelling, which recurs frequently in her work. It was also in Singapore that she became acquainted with antique jewellery, stones, jade and finely wrought antique Chinese silver. Her passion led her to visit numerous museums of antiquities, as she sometimes still does in search of inspiration.
Mary makes jewellery with a soul. Sometimes she works on commission, but just as often not. The golden tip for women looking beautiful jewellery is: ask yourself why you think a specific piece of jewellery is beautiful, and then you will find the essence. The best compliment she ever received, in her own words, is: 'the tears'.